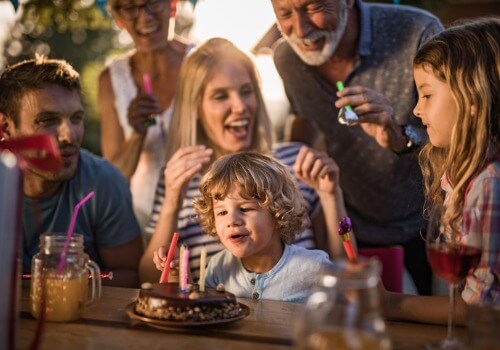 Bushels of Fun Kids Activities for Galesburg IL
Don't sit at home, bored, all weekend long. There are tons of fun kids activities for Galesburg IL to partake in at Tanners Orchard! From picking apples to petting animals, you're sure to find something you and your kids love. Tanners Orchard is the go-to family fun place during the fall, and your children are sure to have a blast while visiting our orchard.
Tanners Orchard was founded in 1947, but generations of farmers beforehand began the great Tanner tradition of apple growing. Back to the 19th Century, the first Tanners began apple-growing across the sea in Switzerland. Today, this wealth of familial knowledge has led to one of Illinois' most well-known attractions: Tanners Orchard.
Party Tanners Style
Forget your boring and traditional birthday parties, when you can be celebrating the Tanners way at Tanners Orchard! We offer parties for kids of all ages, with plenty of fun games and activities to partake in.
Sample Our Treats

If you love apples, you're going to love our apple cider and apple cider donuts! Two of the most popular items at Tanners Orchard are both included in a party package. Additionally, we can provide optional food for the party, including hotdogs or brats with chips.

Private Party Tent

Your party will be seated in our private party tent on the Back 40 Fun Acres. While the adults can relax and socialize, you can watch your kids as they play on the equipment provided in our Fun Acres. Activities and equipment include tetherball, toddler swings, putt-putt golf, a hay bale maze, Apple Dega pedal carts and more.

More for Your Kids

If you're looking for more ways to entertain your children outside party fun, Tanners Orchard has you covered. Apple picking is always a big hit with kids, letting them try fresh apples right off the tree. Also, see our goats, llamas, sheep and more in our petting zoo.
Fun for Everyone
You don't have to be a child to enjoy what Tanners Orchard has to offer. Aside from our numerous kids activities for Galesburg IL and the surrounding areas, we cater to folks of all ages. Walk through our expanded Farm Market and purchase some tasty treats or fun novelty items. Or, you can take a tour of our orchard on the back of a trailer and learn a little more about our rich history. And once in season, our corn maze is always a fun time for family day trips, date nights and more.
Call Us Today
To schedule your next party, or learn what other kids activities for Galesburg IL we're offering, give Tanners Orchard a call today. You can contact us at (309) 493-5442. Also, we are located at 740 State Route 40, Speer, IL 61479.