Apple Bin Bakery Peoria IL
The Apple Bin Bakery Peoria IL Can't Live Without
Do you love the irresistible aroma of fresh baked apple pie? What about the succulent sweetness of warm apple cider doughnuts in the morning? Here at Tanners Orchard, we have what you're craving at our Apple Bin Bakery. Enjoy fresh baked goods throughout the season that are sure to tantalize your taste buds. From pies to fudge, our bakers are hard at work preparing the foods you can't resist. In addition to sweets, you can even come to us for lunch, as we have a variety of sandwiches and salads to please your palate. We are the Apple Bin Bakery Peoria IL can't live without!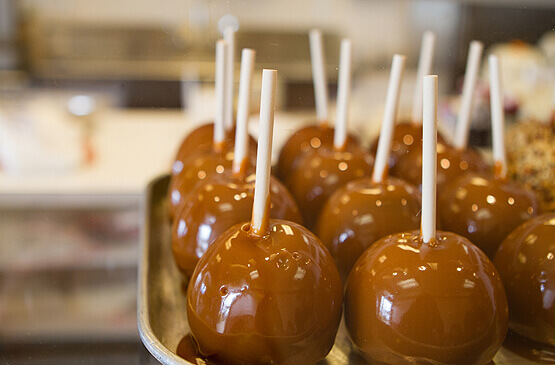 Our Menu
From homemade lunch on the farm to caramel apples for a sweet treat, we have you covered with our one-of-a-kind aromatic creations. Come during the week and find a variety of lunch menu items, as well as fresh baked goodies. Here's a look at our menu:
Apple Cider Donuts: These are our signature item! You'll smell their delicious aroma when you walk in the doors. So grab a coffee, enjoy a doughnut and take home a dozen for the family. You can even freeze some for later in the week. Just warm them up a bit and enjoy!
Caramel Apples: Made with an old German caramel recipe from 1975, our caramel apples are to die for. We cook the caramel for 45 minutes until the mixture resembles a velvety texture. We then hand dip each apple into the warm caramel and roll it in crushed nuts. Or, if you prefer, we do have some plain caramel apples. Last year alone, we made 51,000 caramel apples!
Homemade Fudge: Visit us next door in the Fudge Kitchen for a sample. Select from up to 12 varieties of delicious smooth fudge. You can watch us make it right there in the kitchen.
Pies: With a variety of home baked and frozen pies, you can't resist picking up a bunch for parties and family gatherings. Every day, we offer apple, Dutch apple and caramel apple nut. Throughout the fall, we offer other seasonal varieties as well, so be sure to pop in often to see what's baking. We also offer six-inch pies perfect for two people.
Lunch: We can make you sandwiches, wraps, soups and salads to enjoy lunch on the farm.
Contact the Apple Bin Bakery at Tanners Orchard
Looking for some fresh fudge, a baked apple pie or some cider doughnuts to go with your coffee? Pop into the Apple Bin Bakery at Tanners Orchard today. Call us at
309-493-5442, email us at tannersorchard.wd309.org or request a quote online.