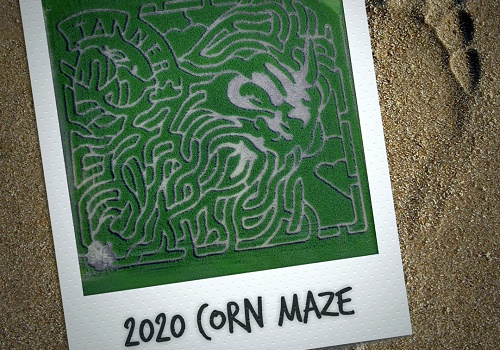 History of the Corn Maze
Mazes have been around since ancient times. Labyrinths played an essential role in both Greek and Roman cultures, and hedge mazes were used in Europe as early as the 16th century. But it was only in recent years that man combined the concept with modern agriculture. The first corn maze appeared in 1993 when American Maze Company pioneered the attraction in Annville, Pennsylvania. The creator of the idea was Don Frantz. His original design expanded over 3.3 acres of land and wove together to form a dinosaur. Over 20 years later, his invention continues to inspire individuals all over the world. It has especially influenced orchards, many of which use the attraction as a fun way to draw customers to the farm.
About Ours
Tanner's Orchard is no different. Every year, our team creates an original design around a specific theme. We then program that design into our machinery so that it plants in a particular pattern. This is why you'll never see stalks or roots where the paths are supposed to be. The technology we use is so precise that it plants everything exactly where we want it. This accuracy has allowed us to create many elaborate designs, including bigfoot, a butterfly, a cowboy and more! Follow our Facebook page to see what cool design we come up with this year.
Learn More
Do you love the thrill of a good corn maze? If your answer is "yes," then you'll love getting lost in ours! This highly-anticipated attraction is open from the first Saturday in September through October, and it runs every day from 10 AM to 5 PM. Tickets are available at our U-Pick building, which closes at 5 PM. After that, all passes can be purchased at our Farm Market. For additional questions concerning our corn maze, call (309)-493-5442.