Tanners Orchard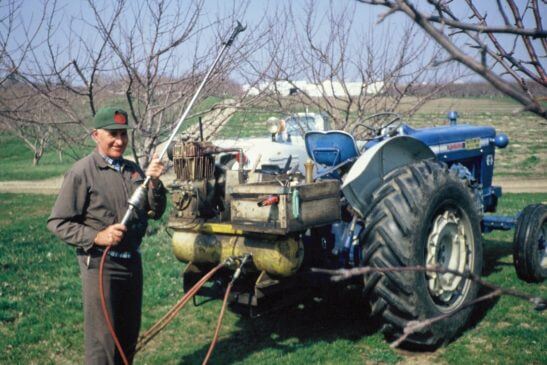 Since 1947, four generations of the Tanner family have welcomed you to an amazing country farm experience.
The roots of the apple tree run deep. You might say the same thing about the Tanners; their roots run halfway around the world to the town of Walde, Switzerland. It was there that Rudolph Tanner ran his family's apple orchard until 1906 when he set off for the "new world."
Rudolph and his new bride, Mina, settled in Deer Creek, Illinois, and started a new orchard and family. Rudolph and Mina raised lots of children and lots of apples.
Their son, John, the seventh of eleven children, eventually took over the Deer Creek orchard. John and his wife Margaret raised their apples and children.
Unfortunately, the Deer Creek orchard was five dusty, bumpy miles from the nearest "hard road."
In 1947, John found a new place; an 80 acre farm near Speer, Illinois, with 20 acres of well established apple trees right next to Old Route 88 (now Route 40), and he and Margaret moved there with their four children.
Sons Harold and Richard, with their wives, worked together for 30 years. Now the orchard is owned and managed by Richard and Marilyn and their two children, Craig and Jennifer. They are the fourth generation of fruit growers. It has been 75 years now for Tanners Orchard at this location. The Tanners have grown together through the years, spanning the generations, across the country and an ocean.
Tanners Orchard has become a family destination with a bakery serving noon lunches, a large country farm market, wagon rides to the orchard for pick your own apples and pumpkins, a corn maze and the Back 40 Fun Acres with farm animals.
As the fourth generation of Tanners remain optimistic about the future of our diversified family farm, we hope to keep growing fruit, fun and memories for future generations. Hard work and the blessings of God are very sweet fruit indeed.