The Best Apple Orchard in Freeport IL
If you're looking for an apple orchard in Freeport IL, look no further than Tanners Orchard. Since 1947, Tanners Orchard has turned a visit to our orchard into a full day of family fun. You can visit an orchard and end the day on a rat racer or doing flips on the Jumping Jack pad. And take one word of advice: fill up on the delicious donuts after you take your turn on the Jumping Jack pad! We invite you to come for the fun and stay for a million incredible memories.
Take Home Apples and Lots More
Tanners Orchard has a pile of apples: 17 varieties of apples and 11,000 U-Pick apple trees, to be more specific. We also have more than 20 acres of pumpkins and various fruits and vegetables. In fact, our bakery makes some of the most delicious pies, fudge, and donuts you can find. You'll even be able to take home delicious jams, butters, or ciders to name just a few of the tasty treats we have to offer. You can be sure you'll find something special to remind you of an amazing day that's full of fun.
Does Grandma like to golf? She can slip on over to our putt putt course while the kids are taking a turn on the pedal cars. Have an aspiring archeologist in the family? Your kiddo will love our gem mining option! Get the whole family lost in our corn maze or take a wagon ride. As if that's not enough, our Back 40 Fun Acres even has farm animals. Goats, chickens, llamas, rabbits, and even the occasional weekend unicorn will have your little ones falling in love.
In addition to all these wonderful activities, Tanners Orchard also offers weekend events throughout the fall. Check out our Peach and Pancake breakfast or Sunflower Experience in August. You'll love Grandparents Weekend in September. Or check out our annual Santa Breakfast. When you want an apple orchard in Freeport IL, Tanners Orchard is the place to go.
Fun Activities at a Great Price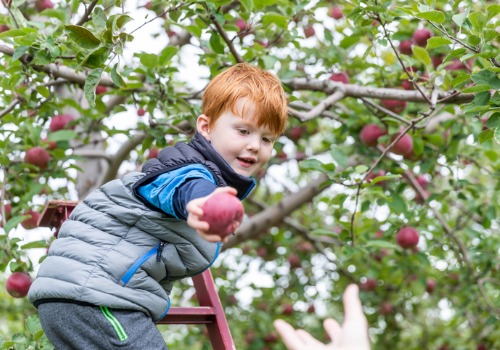 Tanners Orchard is proud to offer these great activities at prices you'll love. There is no general farm admission fee, so our prices are flexible, depending upon what your family wants to enjoy. We have individually priced attractions, as well as a season pass for the entire family so you can come back any time you want during the season. You can also host a party for a birthday celebration your kids will find unforgettable.
Get in Touch
When you're in the mood for a fun family day at an apple orchard in Freeport, IL make sure to make the trip to Tanners Orchard. You'll be surprised how much there is left to discover. We are located at 740 IL-40 in Speer, IL, just north of Peoria. Call 309-493-5442 to learn more.