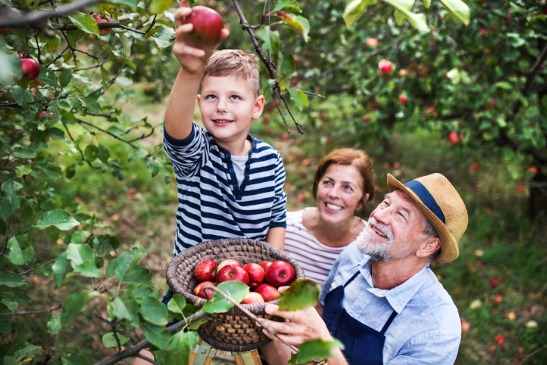 The Best Apple Picking in Peoria IL for Your Yearly Orchard Trip
What is fall without an annual trip to the apple orchard? For individuals all across the world, apple farms serve as a fun and creative way to connect with friends and family. Whether you are looking to pick fresh fruit or stock up on some sweet treats, Tanners Orchard is the perfect place for you! A destination many recommend for the best apple picking in Peoria IL, Tanners Orchard offers delicious desserts, furry friends, and engaging activities for all to enjoy.
Four Generations of Family Fun
The roots of the apple tree run deep, and at Tanners Orchard, our roots run all the way across the globe to Walde, Switzerland. This is where the original owner, Rudolph Tanner, ran his family's apple farm before setting off to the new world in 1906. Once in America, Rudolph and his new bride, Mina, settled in Deer Creek, Illinois. The Orchard blossomed there until 1947 when his son relocated the business for the final time. Today, Tanners operates out of a location near Speer, IL, where it continues to grow fruit, fun, and memories for generations to come.
Attractions for the Entire Family
Whether you're in the mood for a great group activity or simply looking to snag some snacks, Tanners offers a wide variety of attractions to accommodate almost any interest. Keep a lookout for the following on your next orchard adventure!
Apple Picking

Only at Tanners can you choose from an array of over 11,000 trees and 17 varieties of apples. With so many different types of fresh fruit to choose from, you'll never grow hungry. While our apples are delightful on their own, they also make great additions to pies, crisps, sauces, and other delicious dishes to share with both friends and family. See for yourself why many consider Tanners for the best apple picking in Peoria IL.

Kid-Friendly Activities

Beyond the abundant offerings of our apple orchard, are the child-centered attractions of the farm. These include but are not limited to pony rides, a petting zoo, and a big play area known as the Back 40 Fun Acres. With so many different ways to keep the kids engaged, you can finally kick back and relax without wondering about the next activity.

Farm Market & Bakery

After a few hours outside, seek some shade in our air-conditioned farm market and bakery! We offer free apple cider samples upon entry, and after that, individuals can shop from a wide selection of homegrown and locally-sourced items. These include, but are not limited to, soaps, spices, sweatshirts, dressings, decor, and more! When shopping around, don't forget to stop by our bakery for some fresh goods.
Contact Us
Curious to know why many recommend us for the best apple picking in Peoria IL? Come out and visit us on the farm. For more information on our hours and activities, call us today at (309) 493-5442 or see us in person at 740 State Route 40, Speer, IL 61479. We can't wait to see you there!