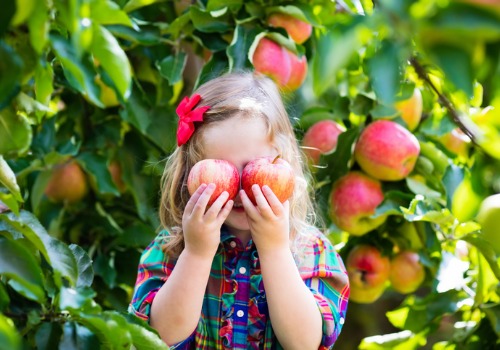 Looking for Fun Kids Activities in Peoria IL?
Needing to get your kids out of the house, but you're tired of the same playgrounds, parks and rec centers? Why not try a trip to your local apple orchard near Peoria IL? At Tanners Orchard, we offer tons of kids activities for Peoria IL and the surrounding area. Spend the day "the Tanners way" with U-Pick apple and pumpkin picking, covered wagon rides, sweet treats and much more.
Farming is in the blood of the Tanner family, with our apple farming roots reaching back to the 1800s. It wasn't until 1947, where we settled down in Speer, Illinois, and we began creating happy memories and traditions for families of all shapes and sizes. Whether you're looking to get away from the big city or trying to entertain your children, Tanners is the perfect place for you.
What Tanners Kids Love!
There's plenty to see and do while you're at Tanners, especially for your children. Come in for the day and take part in every activity that Tanners Orchard has to offer.
U-Pick Apple and Pumpkin Picking

Our apple and pumpkin picking are for people of all ages, but your kids are sure to get a kick out of it! Show them where the popular fruit comes from and let them taste an apple straight from the tree. Also, you can bring them out in fall to pick out the biggest pumpkin to carve for the season.

Back 40 Fun Acres

Let your kids explore all the fun play equipment we have to offer in our Back 40 Fun Acres. They'll slide down the Combine Slides, do a few laps in our Apple Dega Pedal Carts and shoot a few holes on our Putt-Putt Golf course. More fun and activities are to be had when our Festival Days begin in September and October.

Sweet Treats and Good Eats

Once your little ones are all tuckered out, treat them to some of our special apple treats and baked goods. You can try our apple donuts, apple pies, apple cider and more. Additionally, we offer daily lunch and dinner specials in our Old Market Eatery or Tanners Snack Shack.
Adults Can Have Fun Too!
Although we offer plenty of kids activities for Peoria IL and beyond, adults have just as good of a time as their children do. We provide covered wagon rides for those interested in touring our farm and learning more about the history of Tanners. Also, our Farm Market is filled with various gourmet foods, home décor and gifts. And if you're looking to test your luck and skills, take a crack at our yearly corn maze. Tanners Orchard has your complete "weekend getaway" package for family and friends.
Stop by Today
For the most fun kids activities Peoria IL can fit into one weekend, stop by Tanners Orchard today! You can contact us at (309) 493-5442. Also, we are located at 740 State Route 40, Speer, IL 61479.